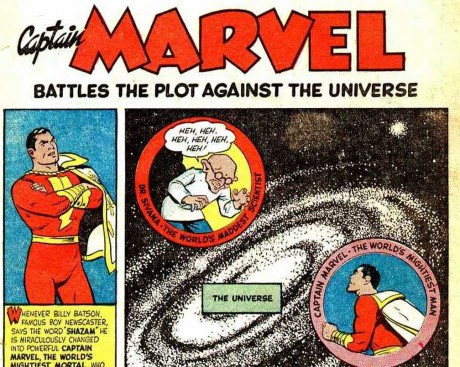 Still surprises me, the number of conversations I've had from major companies and brands alike that their social media efforts are being handled centrally by head office either in Europe or the United States.  OK, so here comes a bit of a tangent and a full disclosure statement: I am a huge comic book geek. So let me borrow from an often unsung, understated hero: Captain Marvel.  "It doesn't take the Wisdom of Solomon to figure out" as Captain Marvel would say, to figure out that many brands are still missing the point when it comes to the regionalization of their social media engagement efforts.
The unsung heroes are the regional offices in Mumbai, Montreal, South Africa and Sydney.  Many brands are feeling the sting of not being represented on the corporate Facebook page, Twitter account or YouTube channel or even LinkedIn company profile.  These orphaned regional offices seem almost invisible to the social world unless you perhaps do a Google Maps search first.
Of course Montreal has its own Fashion Week much like New York, of course the store in Dubai has a phenomenal trunk show, of course the Brazilian corporate gala in support of the local charity is happening – however to use the cliche "if a tree falls and no one is around to hear it…"  OK, so you get the picture now – a "country switch" feature baked into your Facebook page (Starbucks and BlackBerry are two great examples) or YouTube Channel (Cisco is an outstanding adherent to this) would add that much needed regionalized social layer to your customer engagement efforts.
Now comes the hard part: Making sure your social media team is collaborating with the lead team at head office. Though seemingly intuitive, many organizations find collaboration amongst satellite offices and branches difficult and daunting.
Let's look at this challenge through the lens of social media process best practices, that is how do you internally get disparate teams working against different time zones different cultures, different languages event to collaborate? Aren't you all part of the same company, the same brand? Successful collaborative innovation requires a non-adversarial mind-set, a multilevel and multifunctional organizational approach, the ability to learn to speak "another language" that of trust, new metrics, and the willingness to share intellectual property.
What many companies fail to realize is that before they commit to a collaborative framework across separate branch offices, they must be certain that their own office is structured to collaborate. A clearly formulated innovation strategy that focuses on the core tenets of Social Business: organizational behavior, processes, and capabilities is the key to success.
Collaboration Guidelines, Processes & the Power of a Content Calendar
Process guidelines should be used to encourage collaboration amongst the different offices within the corporate fold with the goal being setting up clear rules of engagement and expectations on regional content that will be pushed to the country specific version of your Social Media platforms or at the very least featured via the country switch feature. OK, here are the guidelines:
(1) Plan to hold a conference call regularly and to host one occasionally to set the agenda on a collaborative effort to share information and content across offices and more importantly to the outline the importance of such an effort in serving the social customer globally and if need be move beyond the focus on metrics to one of engagement
(2) Plan technical resources to allow for actual sharing capabilities
(3) Host the kickoff meeting to establish an organizational structure and leadership positions across offices. Define commitment from each of the group members
(4) Establish a content calendar – this is valuable content that will be the heart of the collaboration amongst the group – a clearly defined calendar will make it easier for each office to keep track of potential content and future content
Remember content can take many forms and from different departments: use your imagination, be original, witty and bold – think of what your customer would want to know about the brand and what's happening behind the brand or people related to the brand's lifestyle or those who aspire to be part of the brand.  When you think of content in this context it simply becomes a matter of now capturing the content via video, photo, audio, the written word.